Dear church family,
Sunday School has resumed at the church building on Sundays from 9 to 10am, followed by Worship until 11am.
Social distancing practices will be in place.
Due to a host of reasons such as, revised CDC guidelines, lowest COVID tracking numbers since the pandemic began, prevalence of vaccinations, antibodies carried by those who have had COVID, and our building's air purification system, we believe it is time to adopt a "masks optional" policy. If you wish to wear a mask for your own sake or the sake of others please continue to do so. If you believe it's safe to go maskless please feel free.
There are no Sunday night services.
Please consider your own risk comfort levels before attending.
Please do not attend if you are or have recently been ill.
Please notify the church office if you have been exposed to, tested for, or have COVID-19.
We do need to keep the congregation and House of Hope informed.
Our Beliefs
We Believe…in one God who is the creator of all and who exists in three persons as the godhead: Father, Son and Holy Spirit.
We Believe…Jesus Christ is the son of God, God in the flesh, and is the only source of salvation. He died by crucifixion to take away the sin of the world. He was buried, resurrected and ascended into heaven.
We Believe…In the power of The Holy Spirit. That He convicts people of sin and empowers Christians through the means of God's word.
We Believe…the Bible is the inspired Word of God. It perfectly reveals Him to us and shows to us His plan of salvation.
We Believe…we are saved by grace through faith in Jesus Christ. We believe God has instructed baptism (water immersion) to be the necessary expression of faith for those who confess Jesus as their savior.
We Believe…that Christ did establish His church while on the earth and that it exists today. We believe the church is the body of Christ and that He alone is the head. The purpose of the church is to continue the commission of Jesus to share with the world His teachings of salvation and to encourage the other members of His body.
We Believe…the Lord's Supper should be celebrated each Sunday, as we understand from scripture that it was done so by those in the first century. This is not to be a mundane practice but a glorious and wonderful reminder of the precious sacrifice Jesus made.
We Believe…worship is done, not just on the first day of the week, but everyday that we exist on this earth. We believe though, that our time together in worship on the first day of the week is a special gathering.
We Believe…we are to be a loving family who accepts, teaches, encourages, forgives and loves all around us to the glory of God.
Our Congregation's History
The Glen Rock Church of Christ was begun by Christians who had been worshipping in York city 15 miles away. Their decision to establish a congregation in this community was the start of something which God continues to bless.
It began with Dewey M. Bare donating land and a small two-story meeting house being built in 1953. The congregation began meeting there in 1954. In 1960 Wallace Cheek donated land for a parsonage. As membership continued to grow, the need for more space became essential. A larger auditorium and more classrooms were added to the existing building in 1965. Our first elders, Fred Bare and Tom Simmons, were appointed in 1972. Since then, various men of the congregation have continued to sacrifice their time, talents, and energy to serve as elders and deacons in the congregation.
The family at Glen Rock has always looked for ways to further the cause of Christ in local communities and across the world. A look back at the past holds wonderful memories for the family at Glen Rock. However, a look into the future holds wonderful promises as well.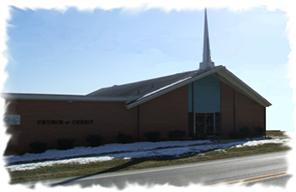 The Lord's church at Glen Rock is a family of believers, saved by the grace of God through the blood of Jesus Christ. We have all sinned and fallen short of God's glory but we are seeking to serve Him as He desires and to serve all in the name of Jesus.
Because of God's Love, our desire is to offer any assistance we can to guide you to salvation in Christ and in your continued spiritual walk with God. We care about you and your loved ones. We would love to have you visit with us!
" This is My commandment, that you love one another, just as I have loved you. "
~John 15:12
Contact us:
3899 Sticks Road – Glen Rock, PA 17327
office phone: 717 235-1470
office email: grockoffice@comcast.net
Minister:
Jeffrey Dillinger
Elders:
Allen McKinney
Dave Simmons